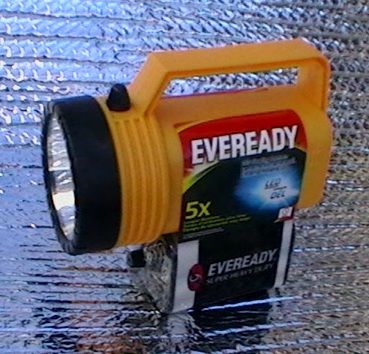 We are going to take a long run time flashlight (65 hours) and turn it into a longer run time flashlight (360 hours).
This Eveready flashlight (model number 5109LSH7 or 5109LS) costs $4.97 at Lowes:
(This is a great long run time flashlight to have even if you don't do the modification.)
Where to buy:

http://www.lowes.com/pd_355538-346-5109LSH7_0__?productId=3413164&Ntt=flaslight&Ns=p_product_price|0
I just picked up another one at my local Lowes. I like this flashlight because as is it has a long run time before the battery needs to be replaced (65 hours). It is bright. It is cheap and it is easy to hack. You can do this modification in 10 or 15 minutes and most of that time will be waiting for your soldering iron to heat up.
The only thing about this flashlight that is less than optimum is that the 3 LEDS have a little too much current going through them. The LEDS appear to be "straw hat" type (20 milliamp) LEDS. Each LED has about 60 milliamps running through it.
Here is a data sheet for a typical straw hat LED:
http://lighthouseleds.com/downloads/dl/file/id/113/5mm_straw_hat_led_cool_white_datasheet.pdf
The LEDS in this flashlight may be specially made to handle more current but in case they are not, this modification will bring the current down to a level that will insure tens of thousands of hours of LED life.
I chose to add a 56 ohm resistor to the circuit so each LED runs at about 16.5 milliamps. This will increase the run time by 5.5 x.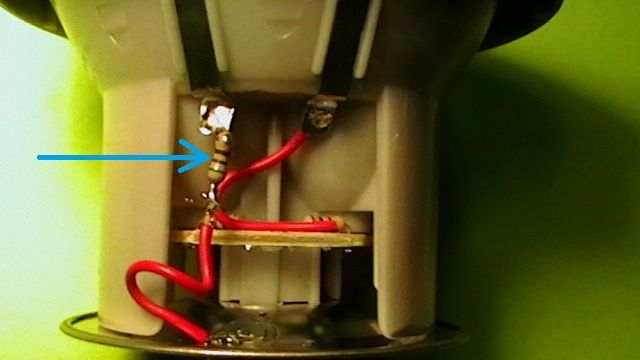 Read the rest of the article here:
http://www.instructables.com/id/Easy-Flashlight-Mod-Increases-Run-Time-36X/?ALLSTEPS